Shop Local with Tracy and Lee Woods
Eighth in a series of stories about local Waurika businesses. Shop local and invest your tax dollars where we live, work and play.
From making candles in her home kitchen to screen printing and shipping up to 2,000 shirts a week, Tracy Woods is a prime example of how to grow a small business into a company with unlimited regional, national and international sales potential. Tracy and her husband, Lee, own Small Town Creations (STC) located at 218 S. Main in Waurika. They purchased the former Shelton's Grocery building in 2017 and have a 6,500 Sq. Ft. retail craft and boutique shopping mall, where Tracy still sells her hand-made candles, and a 3,500 Sq. Ft screen printing and wholesale clothing business where they ship wholesale orders across the U.S. and Canada.
Tracy grew up in Hastings and Waurika and her husband, Lee, is from Comanche. "I've lived in the Waurika area my entire life," Tracy said. "Dr. Stout delivered me at the Jefferson County Hospital. I graduated from Waurika High School in 1995 and Lee and I were married in June of that year. This is our home." They have one son, Braden, who is a 2018 WHS graduate and attends the University of Oklahoma where is working toward a degree in Professional Writing.
Tracy has worked hard to get where she is today. She was working at Walmart when she became interested in candle making. That interest was sparked by an early mentor, Michael Duby, who owned a gift shop in Waurika. "I was shopping in Mike's store and we got to talking about how I was making candles in my kitchen at home. He gave me a couple of candle jars and I took him some candles," Tracy said. "I started making candles for Mike's shop and pretty quickly perfected my Hot Fudge Brownie candle recipe. It's the only recipe from my early days that I still make today."
Tracy worked at Walmart during the day and made candles in the evenings for several years. "In 2003, I was working at Walmart when Bill Hall came through my line, he offered me my first rental in the old Tag Office Building on Meridian Street," Tracy explained. "I worked at Walmart from 7 p.m. to 11 p.m. and all day on Sunday and ran Small Town Creations Candle Shop and made candles during the day. Braden was 3-years-old at the time. Lee was working full-time, too and helping out with candles and the shop when he could. We've always worked hard for everything we've accomplished."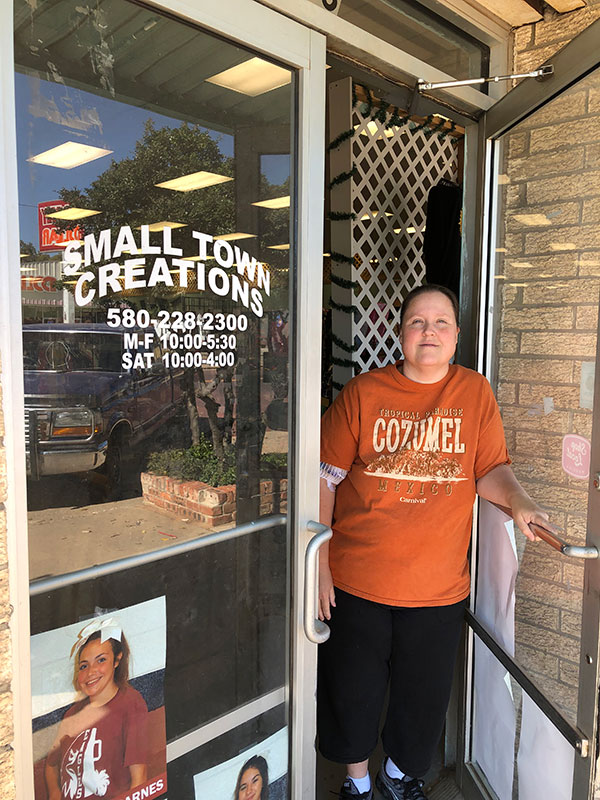 In 2007, she and her business partner, Billie Porter, moved Small Town Creations to 116 N. Main and started a craft and small boutique mall. "I was in Walters and shopped in a Craft Mall there and thought that Waurika needed a store like that so local crafters had a place to sell what they made and I could still sell my candles," Tracy explained. This worked really well until the building was purchased and she had to find another place for her business. "Billie decided to buy a local restaurant and I had a small gift shop in the front of that building for short period of time before I moved Small Town Creations to a small building at 322 South Main," Tracy continued.
In 2011, the person who purchased the building at 116 N. Main approached Tracy and asked if she would be interested in purchasing the building. Lee and Tracy purchased that building and moved back to that location and re-opened STC and kept the Craft and Boutique Mall there. "I closed on the 322 South Main Street location on Dec. 10, 2007 and closed on the 116 N. Main building on Dec. 10, 2011," Tracy stated. "December 10 is always a significant date for me."
In June of 2013 STC took an important turn that sparked a tremendous growth in business. Tracy and Lee purchased their first screen printing machine that year. "It just kind of fell into our laps. A girl that Lee went to school with told Lee she wanted to get out of the screen printing business and wanted to sell her equipment," Tracy explained. "I texted her and one month later we were learning how to screen print t-shirts. Through the years, we've invested a great deal in training and classes so we know the right way to do things."
In May of 2017, Lee and Tracy, purchased the building they are in now and that allowed them to have the room needed to grow their screen printing business. "99% of our business is now screen printing and we ship all over the U.S. and Canada," Tracy explained. "I still make candles and sell them in the shop, but most are for fundraisers. I offer 10 to 15 fragrances and do candles, melts and room spray and recently added car scents."
Much of their business comes from Tracy's wholesale only site and her wholesale Facebook group. "I'm looking into doing a website," Tracy explained. "My son Braden will eventually get that set up for me." My dream is to eventually have a warehouse in Oklahoma City or Dallas for our custom screen print products and our clothing and shoes. "I have several regional customers who place their wholesale orders through me for their businesses," Tracy said. "I really enjoy the wholesale side of the business."
In December of 2018, they added an automatic screen print machine. They can now print up to six colors and eight shirts at a time. At full speed, they can print 41 dozen shirts an hour. The new machine requires 2 people to operate with one person loading shirts and one person unloading. "More set up time is required; however, the production it can run is absolutely amazing. We also added a new faster dryer to keep up with the faster production," Tracy explained. The new machine was a game changer for them and allows them to ship 1,000 to 2,000 units of product a week during their busier seasons.
Tracy had some advice for people thinking about opening a business. "Expect long hours and understand that it's a journey and may not work out exactly the way you originally planned," Tracy continued. "I had a wise person tell me early on that if you do what you love, you won't work a day in your life. I agree with that as long as you are willing to really work at what you love."
When she opened the Meridian Street location 16 years ago, one of Tracy's first customers was Sam Countiss. Sam gave her a marble and told her to carry the marble with her all day every day. Sam said, "This marble is to remind you of God's love for you." When times are tough and sometimes when she even thinks about quitting, she always remembers Sam and the marble. Tracy said, "God has had his hand in everything we've done and I trust that he always will."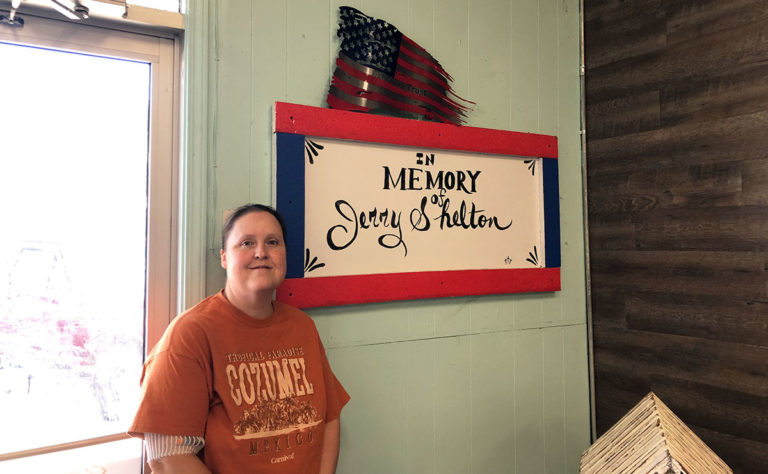 One of Tracy's other mentors was Jerry Shelton. When she and Lee bought the former Shelton's Grocery Store location Jerry told her how thankful he was that the location would stay open. She planned to give him a tour of the building before the official grand opening, but Jerry passed away shortly before the opening. When you walk in the business today, there's a sign to the left of the front door that honors Jerry Shelton. "He was important to me and to the Waurika community," Tracy explained.
Tracy stays very busy in the shop, but until some health issues and a couple of surgeries over the last few years, one of Tracy's favorite activities was coaching the WHS Flag team for about 15 years. "I was on the Flag Team when I was in high school and have really enjoyed working with all the girls through the years," Tracy stated.
When they moved to the new location in 2017, they completely remodeled the store and she and Lee did most of the work themselves. "One day after we had a particularly grueling day of working on the floor and were exhausted, a marble came from somewhere and rolled across the floor to where they were scooping up the last bit of flooring," Tracy continued. "Lee and I both had no idea where that marble had come from. It was not the original marble that Same gave me, but a different one. I scooped it up and I now have two marbles to remind me of both God's blessings and the many people who have helped us along the way. I've gotten a great deal of support from the community and I'm very grateful for that support."